Last week I helped present a forum on historic preservation. Titled "Pragmatic Preservation," the underlying goal was to help promote a climate where developers and preservationists could find common ground. The panel included people with practical experience on both sides. Issues and current events were debated in a civil and, well, pragmatic discussion. I walked away from the event with practical ideas and the general feeling that perhaps there was a way to negotiate an honest if uneasy truce.
Fast forward one week and all that goodwill has been "demolished" by Hurd Real Estate. Hurd has assembled a large collection of properties at the significant intersection of Ingersoll and 31st in the North of Grand neighborhood. This intersection has excellent access to downtown and Interstate 235. It is located in the middle of the successful Ingersoll business district and within walking distance of thousands of nearby homes.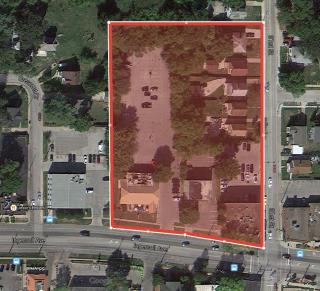 Hurd Development Project at 31st and Ingersoll: Assembled parcels for redevelopment in the Ingersoll business district.
In order words, it is prime developable land. Nobody argues that point. To be quite honest, I am a pretty big fan of densifying Ingersoll with high quality multi-story mixed-use and transit-oriented development (unlike the suburban-style Dahl's just up the street). Even if that development necessitates removing some marginal historic resources.
What I am not a fan of is needless destruction.
With no advance warning to the neighbors, the City, or the established neighborhood organization, Hurd has begun demolishing six 100-year-old homes in preparation for what he as simply called "substantial" plans. While these homes are not individually significant and have undergone various amounts of remodeling over the years, they were evaluated as potentially contributing to a future National Register Historic District.

Homes demolished by Hurd Real Estate
The owner stated to the City that he was having trouble keeping homeless people out of the vacant buildings as the weather turns. That is plainly ridiculous - the buildings are vacant and unsecured. Of COURSE they become potential places for refuge from the cold. If they were properly secured, as they should have been, they would not be accessible to squatters. That is the owner's responsibility; neglect of that responsibility should not be an excuse to demolish.
Ownership
All six homes are held in a legal entity innocuously named "Bryn Mawr Homes LLC". The registered agent for this LLC is Timothy Hogan, an attorney whose office happens to be located at 3101 Ingersoll. Timothy is also the registered agent for 3101 Ingersoll LLC, the entity that currently owns the keystone parcel in this assembly.
Of course quietly assembling parcels through shell entities is a time-honored development strategy. There is nothing illegal, or even unethical about it. I've worked on the development side of deals like this and used the very same approach. It helps lower acquisition cost (the owner of the last parcel has a pretty strong negotiating position). It helps reduce legal liability. And it helps marginalize pesky preservationists who don't find out about planned demolitions until it's too late.
Why Now?
Clearly Hurd's "substantial" project is not shovel-ready. All six historic parcels are zoned R1-60 – a designation that prohibits almost everything a developer like Hurd might seek to build. Working through the rezoning or Planned Development process will take a substantial amount of time. It will involve negotiations with the City and the neighborhood organization, and multiple hearings at the Zoning Board of Adjustment and City Council. There will be plans submitted and news article written.
So why bother demolishing the historic buildings before everything is in place? Several reasons:
They are a legal liability – There is a lot less risk in a big vacant lot than six vacant buildings.
They are a public relations liability – If the project takes a year to gestate, it's no good having the public face be plywood-covered decaying buildings.
They are an unknown – What if preservationists decide they want to fight to save the buildings?
They are a financial liability – it costs a lot more to maintain a building than it does to maintain a vacant lot.
626 31st Street, Assessor Database Photo: To be demolished by Hurd Real Estate
And so, a demolition rig sits silent tonight in the cold winter air, waiting for the signal to rev up and tear into its prey.
Moving Forward
Many months, perhaps a year down the road, a new building will rise on this corner. Will it be better for the City overall than the demolished homes? Quite possibly.
Could the developer have approached these demolitions in partnership with the neighborhood, salvagers, and historians? Absolutely. Doing so would have strengthened his relationship with the neighborhood and saved material from the landfills, without impacting the project at all.
There is still time. Delay the demolitions and engage with individuals and organizations willing to salvage useful material from the buildings. As a pragmatic preservationist, I will be on your side if you do – allow time for interested parties to remove historic window sashes with irreplaceable glass, old-growth lumber, wood trim, doors, and hardware.
Then demolish the buildings… but build something good in their place: keep the street edge on Ingersoll, make it adequately dense with retail on the first floor. Make the design unique and significant. Do that and we are golden.
Yeah, and don't be evil.