I just returned from a fabulous summer vacation to the eastern shore of Lake Michigan. While there, I spent most of my time at a cottage on the beach - however, I did get into town a couple times. Saugatuk/Douglas is a close-knit community of just a couple thousand permanent residents that balloons in the summer to tens of thousands. The towns have built for themselves a reputation as both an art and tourist destination. Having avoided the fires that swept through many midwestern towns in the 1800s, Saugatuk retains much its original historic Victorian and Queen Anne style buildings, many of which have been converted to retail shops along the main corridors.
Just a short car ride south of Saugatuk is a town of 5000 permanent residents called South Haven. This small town has a thriving district with, I daresay, more storefront retail than downtown Des Moines! How can this possibly be?
This map shows the main entry to South Haven - complete with a standard Wal Mart at the highway intersection.
Follow Phoenix Road west into town, and it quickly converts from a typical suburban auto-centric development pattern to a historic mixed-use feel. They have done an excellent job at capitalizing on the pedestrian-oriented "main street" to draw customers in, get them out of their cars, and spending money at the storefront retail shops that line at least 12 square blocks.
This is what successful pedestrian-oriented planning looks like.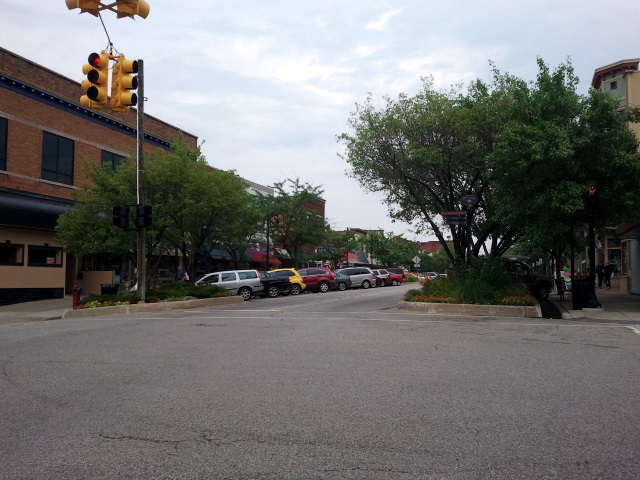 Successful Pedestrian-Oriented Downtown Retail: Successful pedestrian-oriented retail in downtown Saugatuk, MI.
Note the key elements visible here:
Street parking is located along the main thoroughfare and lots are located on side streets.
Storefronts line both sides of the street with "retail" windows for window displays.
Awnings and building overhangs.
Street plantings and trees.
"Bulbouts" at the corners to facilitate pedestrian crossing.
Narrow lanes to slow down traffic.
Pedestrian "furniture" like benches and trash receptacles.
Even the new construction on the side streets respects the pedestrian-oriented development pattern.
New Mixed-Use Construction: on a downtown South Haven side street
Phoenix Road turns into Water Street at the harbor. the retail district gives way to a wide sidewalk that leads pedestrians past the marina, the beach, and out onto the pier - culminating in the lighthouse.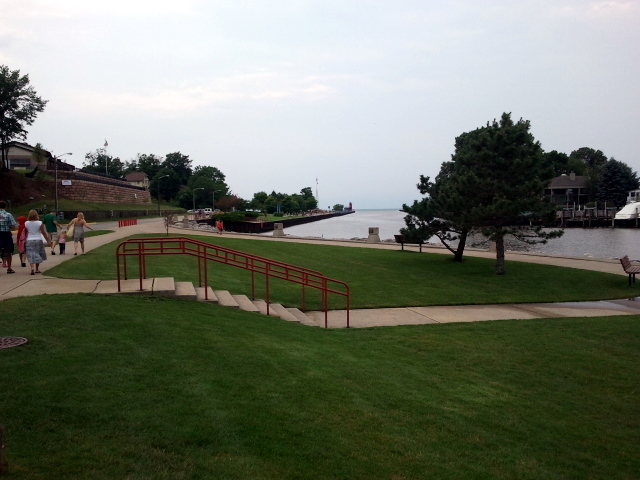 South Haven, MI - Water Street
Homes front onto the opposite side of the waterway. This one caught my eye. If it hasn't been in Dwell, it probably will be.
Conteporary Home: facing the South Haven harbor
I've said it before and I'll say it again: it's not that hard. We know what to do - we know what works and what doesn't. Think about the walk from the Capitol building in downtown Des Moines to the river. There is a brief jaunt through the East Village, followed by blocks upon blocks of street-level parking lots with nary a full grown street tree in sight. Even the awesome East Village's vibrant street-level retail is punctuated by anti-pedestrian buildings and surface parking (yes, I'm looking at you, Blood Center of Iowa and State Historical Society of Iowa buildings).
Des Moines, we can do at least as good as South Haven, Michigan. What if the East Village was 12 full square blocks of dense mixed-use retail/residential with NO surface parking?