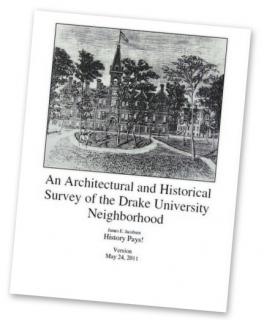 An incredible amount of work went into creating this report - it documents the historic contexts under which the neighborhood developed as well as the architectural significance of the buildings throughout the neighborhood.
Calling all history buffs: You can download a copy of the final report on the project website! (full disclosure, I developed the website/database and was a co-project manager on this awesome undertaking)
The research project utilized a comprehensive approach that sought to document all buildings within the survey area. Consequently an all-building permit database and a historical photo set that included 700-1,000 photos was amassed. The building permit data was used to separate out the many overlapping house-based historical contexts. This separation involved distinguishing pre-Drake University residences, early Drake-induced residences (many of which started out in a lesser scale, but were then enlarged over time), and modified residences (as apartments or Greek social system residences).