There are two primary types of historic districts: National Register historic districts and local historic districts.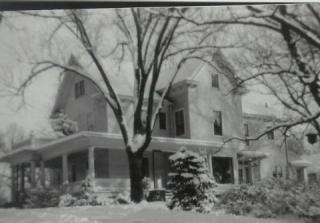 Historic Home, 1940'sLocal historic districts like Owl's Head and Sherman Hill in Des Moines require that exterior improvements meet certain standards, as interpreted by the Historic Preservation Commission. In a local historic district, for example, a property owner cannot alter fencing, siding, windows, or porches without a "Certificate of Appropriateness" being issued.
National Register historic districts are essentially all "carrot" and no "stick". The myth that the government will restrict what property owners can do to their privately held buildings in a National Register historic district is as persistent as it is false. In a National Register District, one can install vinyl siding, add an ugly porch, even demolish their house if so desired!
The "carrot" is Historic Tax Credits. Qualifying renovation work on buildings that contribute to the historic district is eligible for a refundable state income tax credit of up to 25% (and in some cases an additional Federal tax credit of up to 20%)! In my experience, there is no development tool more effective for spurring sustainable neighborhood reinvestment. Not only does renovation have the direct benefit of returning vacant and underutilized properties back to use, but it also has the associated benefits of raising property values, directing investment back to developing neighborhoods, paying of local wages and material purchase among others.
Of course, if one gets historic tax credits, the work is reviewed to make sure it doesn't negatively impact key elements of the building's historic integrity.
Des Moines is sprinkled with National Register historic districts, but two neighborhoods stand out as particularly dedicated to historic preservation: Sherman Hill and River Bend. The Drake neighborhood is following closely behind.
The Drake neighborhood has recently completed a reconnaissance level survey of historic contexts and resources in preparation for future National Register nominations. Ten new potential historic districts were identified, covering approximately half of the large neighborhood. [Disclosure: I helped write the grants and manage the survey project].
It is my hope that identification of these new potential districts will help galvanize the neighborhood to take a more active role in preservation, advocating actively against demolition and neglect in these areas in particular. It will require guts to stand up to developers, Drake University, local non-profits, and even the City when they argue that buildings "aren't worth saving" and that the neighborhood is "lucky to have anyone interested in building at all".
Several large areas of the neighborhood were eliminated from consideration for future historic districts because they lack the necessary architectural integrity... lesson learned. Let's get back on the right track and stop accepting demolition as the default position.