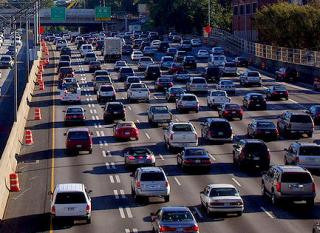 Across the country, cities are looking for ways to reverse decades-old planning decisions that facilitated decline of their downtowns and surrounding neighborhoods. Some of the most brilliant and innovative projects are those that stitch together neighborhoods torn apart by the construction of interstate highways. Yes, some particularly progressive cities are actually removing interstate highways!
This approach seems counter intuitive to many people. Many Americans have grown up knowing no other option for moving people through a city or between cities. Indeed, as a means of moving a steady flow of individuals and goods across great distances to decentralized locations, the Interstate was a wonderful experiment. Intercity travel has become simple and relatively fast.
Within cities, however, we have found quite the opposite. It was assumed by early planners that adding limited access highways as another layer in a complex transportation system would facilitate easy travel. Unlike previous transportation innovations, the limited access highway has never been adequately incorporated into a healthy urban environment.
It is time to reconsider this experiment.
The Proposal
What if Des Moines were to remove I-235 from 42nd Street to East 14th? What if we converted the limited-access highway that currently divides downtown from the surrounding neighborhoods into a six-lane boulevard with integrated public transportation and lined with appropriate retail/residential and commercial development?
42nd Street marks a change in the character of the neighborhoods that surround the highway. East of 42nd, it is clear that the highway sliced through established residential neighborhoods. West of 42nd, the underlying development pattern is not disrupted to the same extent.
On the east, it is clear that any fundamental transportation planning initiative should include the Capitol complex, the river, and Downtown proper.
And yet, we should also dream big... This could be the start of a larger project to convert the highway all the way through the Fairgrounds/University exit (or beyond) on the east.

I-235 Study Area: Proposed study area for conversion from limited access interstate highway to urban boulevard
The goal of this project would be three-fold:
Knit Downtown and Capitol complex back into the street grid. Not only would this create additional land for residential and retail development, but would also drastically improve access into and out of downtown.
Create approximately 100 prime "developable" acres in the central city. Sale of the land could top $26 million. Once built-up and after any development incentives have expired, the land could generate $6 million in annual tax revenue for the city.
Promote more compact development and the opportunity to rethink underlying regional transportation strategy. Rather than continued expansion of the suburban and exurban fringe, the future will demand that we refocus on sustainable neighborhood redevelopment.
It's All Been Done Before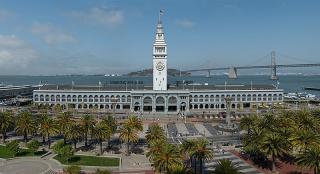 Embarcadero, San Francisco: The Embarcadero elevavted highway along the San Francisco waterfront was converted to a boulevard after being damaged in an earthquake.The process of excising a highway in order to promote redevelopment and revitalization of a central city is not new. Here is a partial list of freeway portions that have been removed (source PreserveNet.com):
Portland, OR: Harbor Drive
San Francisco, CA: Embarcadero Freeway
San Francisco, CA: Central Freeway
Milwaukee, WI: Park East Freeway
Toronto, Ontario: Gardiner Expressway
New York, NY: West Side Highway
Niagara Falls, NY: Robert Moses Parkway
Paris, France: Pompidou Expressway
Seoul, South Korea: Cheonggye Freeway
A citizen-led group has formed in St. Louis, Missouri, to explore removal of the I-70 connector that slices between downtown and the riverfront/Arch. In addition to creating desirable developable parcels, this solution would restore the historic relationship between the city and the river. More information is available at http://www.citytoriver.org/.
[Update, via @MarsCafe: A forward-thinking Baltimore group is thinking about the same thing!]
What Do You Think????
Of course, this is just the nugget of an idea. What are the problems with this solution? Are there other benefits? How could this be accomplished politically?