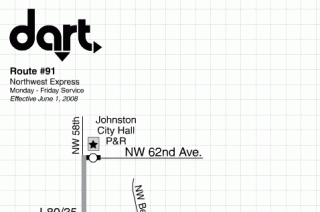 Johnston Park and Ride at City HallJohnston City Council voted Monday to withdraw from the Des Moines Regional Transit Authority, effective in 18 months. There is currently one "express" route that connects Johnston City Hall to Downtown - the 91 line with two trips in the morning and two trips in the afternoon. City leaders cited lack of service and upcoming DART levy changes as reasons for the decision.
According the the Des Moines Register, the City of Johnston found 16 regular riders on the Northwest Express (91) line. Dividing the Johnston DART levy by the number of regular riders equates to an annual cost to the City of Johnston of approximately $12,000 per rider. If the annual levy is $192,000, dividing by the population of Johnston (13,600 as of 2006) equals a per capita annual contribution of $14.
The problem with Johnston's approach to this decision is two-fold.
First, Johnston has chosen to develop primarily using a suburban model with discrete zoning districts, low-density housing, and big-box retail/office. This development pattern is very difficult to serve with public transportation. Yet, Johnston's strategic plan calls for the creation of denser, more transit-friendly developments in certain areas. Availability of mass transit will be a key amenity attracting people to live and work in these areas.
Fuel prices have once again dropped to a level that inspires complacency. If gas were still $4.00 per gallon (which it will be again, mark my words), the Johnston City Council would be scrambling for ways of increasing mass transit service.
Second, transportation policy is a regional issue, not a municipal one. Residents benefit from the availability of mass transit options, even if they themselves don't ride. There are a variety of services that assist people with disabilities, the elderly, and people who don't own cars. Our society as a whole benefits when everyone can get where they need to go for work, play, shopping, and personal business.
By removing additional cars from major streets and highways, public transportation in the City of Des Moines also helps Johnston residents who drive into downtown.
As the petroleum fuel-based economy wanes, Cities that develop sustainable housing and shopping patterns served by public transportation will be much better positioned to attract and retain residents.
What If...
If Johnston proceeds with their decision, my vote would be to call their bluff. When the contract expires, DART should immediately place a moratorium on all public transportation to that city, including special services. The cost to rejoin DART should be four times the otherwise current levy at the time they decide to rejoin.
It is shortsighted and selfish for an individual City to withdraw from regional public transportation. It is simply not acceptable to opt in and out of supporting a public good when the mood strikes.
If you want out, Johnston, you are out for good. I guess you are lucky I'm not the DART negotiator.