The online forums are filled with people complaining about the new bike lanes on Ingersoll. People who claim to have previously shopped at stores on Ingersoll are boasting that they have "taken their business" to West Des Moines because of the new bike lanes and will "never drive down Ingersoll again. (My guess is those people never did a whole lot of shopping on Ingersoll to begin with).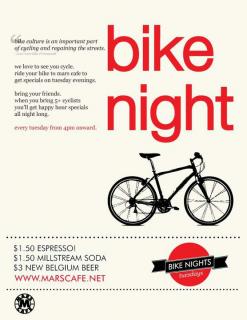 Mars Cafe Bike Night PosterThe hills are alive with extreme claims that the bike lanes will be the end of business on Ingersoll.
If they are concerned about business falling off, businesses on Ingersoll should take a page from Mars Cafe's brilliant playbook and embrace the bike culture. Every Tuesday evening is "Bike Night" at Mars Cafe - riding a bike there gets you drink specials and happy hour prices all night long if you come with a group.
Here are some other ideas for Ingersoll businesses to take advantage of the transportation upgrade:
Biker Specials - Copy Mars Cafe and offer discounts to patrons who arrive on two wheels.
Bike Festival / Bike Show - Collaborate with local bike shops to host an annual Bike Show and kid-friendly Bike Parade.
Bike Race - Host an annual bike race up the 42nd Street hill.
Pre-RAGBRAI Bar Crawl - Bikers, get ready for RAGBRAI! Ingersoll Bars could host a pre-RAGBRAI bar crawl, where each bar represents one of the overnight towns.
What other events or promotions could build on the new bike lane asset?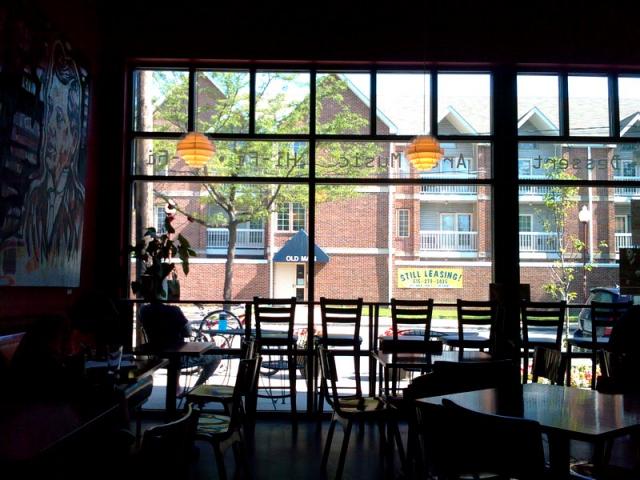 Working at Mars Cafe: Morning work at Mars Cafe on University by Drake - note my bike parked outside the window.