Ewing Land Development (http://ewingdevelopment.com) has purchased the hotly contested Rice field from the Des Moines Public School District for just under $200,000. They intend to develop a 44-unit senior housing facility on the site - this is a disappointing end to a divisive debate.
In order to fully realize the potential of this beautifully situated and eminently developable site, it should be occupied by relatively dense mixed-use residential and commercial. Given the images available on the Ewing web site, the building constructed will probably be best described as "suburban forgettable". Ultimately, as a single-use senior housing development, this project will represent a failure to plan for future expansion of the Beaverdale pedestrian commercial district.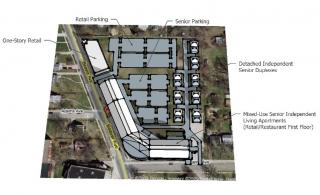 DMperspective's "Rice Field" Senior Independent Living Proposal (click for larger version)Here is what I would propose for the site: a dense building with three stories of independent senior living apartments over retail/restaurant built up to the corner at Beaver and Adams. A smaller retail store would occupy the northwest corner of the site on Beaver. Tucked at the back of the site would be a group of independent senior living duplexes.
Mixed-use senior housing is a perfect combination to enhance an existing pedestrian commercial district.
Independent seniors occupy the streets during the day at "off hours" from the working families that live in the surrounding neighborhood.
Seniors spend money at neighborhood businesses.
Retail use generates a variety of taxes.
An urban-styled building would extend the district and promote development of future transit options on Beaver.
A walkable, transit-connected neighborhood allows seniors to remain active even when they are no longer able to drive.
Pulling the parking to the interior of the site allows for a more pedestrian-friendly site plan.
The City can promote dense, pedestrian-friendly development through progressive form-based zoning - as long as it isn't allowed to be corrupted by anti-pedestrian Planned Developments (PUDs) as will be soon allowed on Ingersoll (more on this topic in the future).