Particularly in older Midwestern towns and cities, it is not uncommon to find rural anachronisms in the middle of otherwise urban settings.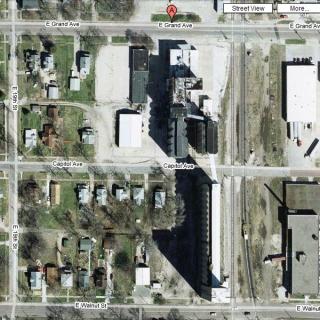 East Grand Feed Mill Aerial Photo: Aerial photo of feed mill on East Grand
Note that this facility is located in a residential neighborhood, where the train tracks cut through. The grain elevator was constructed in the early 1900s, as were most of the surrounding homes. It seems reasonable to believe that employees of the feed mill were able to live nearby and walk to work.
Historic development patterns like this result from a time when many workers did not yet have access to single-occupancy vehicles. They would have had to take streetcars, buses, or walk.
Here's what it looks like today:

Feed Mill on East Grand: Photo from Polk County Assessor
Fix up the sidewalk, add some street trees, make a better connection between the adjacent one story office structure, reinstall the windows, and remove the sheet metal "warts" on the front of the feed mill to restore the relatively urban character of this structure. Here's what it used to look like (image from AbsoluteDSM.com):
The lot and various structures on it were sold by Archer Daniels Midland (ADM) to a company called Grand Avenue Warehousing in 2007 for $50,000. The assessed value has plummeted from a high of $720,000 in 2001 to a mere $40,000 just seven years later. An offhand reference to a small fire on AbsoluteDSM is the only information I can find about why the value would decrease so drastically. The Assessor's web site lists the grain silos in very poor condition.
Hat tip to DMRyan at the AbsoluteDSM forums for reminding me about the Des Moines silos. I drive by the structure on a regular basis as part of my day job, and have been meaning to do a post about it.
Even in St. Louis
The grain silo shown below is situated right along Interstate 64 as it heads into downtown. On the other side of the highway (no doubt the reason the silos were originally located here) are the major railway lines through the city.
Grain Silos in Urban St. Louis