Historic Ruan House in River BendI stirred up a little discussion a couple days ago when I posted the following on the reNew Design Studio Facebook page about a historic tax credit project I am working on:
Historic Ruan House historic tax credit application draft is complete. Trying to get the River Bend neighborhood some money back for their FABULOUS renovation of a burned-out shell!
A couple of my friends thought I was being a bit too harsh in describing the pre-renovation building as a "burned-out shell". I admit to descending into a bit of hyperbole, perhaps inspired by my excitement, with this message. Indeed, the words "burned-out shell" may conjure up an image of charred wood studs poking out from beneath a pile of rubble - the pre-renovation Ruan House was not at that level of destruction.
Yet there can be legitimate debate about the terms "burned-out" and "shell". What is the point at which a fire-damaged house becomes burned-out? 25%? 50%? I don't know. My sense is that it relates more to a general feeling about whether or not the interior character of the house remains intact or has been damaged beyond recognition.
I apply the term "shell" to buildings that are substantially intact on the outside, yet can no longer server their intended purpose due to neglect or physical damage on the inside.
When is a Building Too Far Gone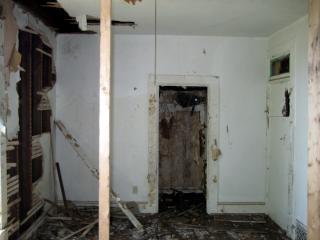 Ruan House (before renovation)The pejorative label "burned-out shell" begs the question, is a building ever too far gone to repair?
Prior to its complete rehabilitation by the River Bend Neighborhood Association, there is little doubt that this historic home had serious issues. There had been a fire in the attic. The roof damage and ensuing water infiltration damaged much of the interior plaster. The rear addition was structurally deficient, building systems and fixtures were missing or inoperable, the entry stoops were crumbling or missing.
Clearly this structure was uninhabitable at the time in terms of both local ordinance and basic human decency. Only those with a healthy understanding of and respect for architectural history would have noted any particular redeeming quality in the physical structure, though it was at one time the residence of a prominent local businessman.
In general I have a pretty low threshold for "save-ability" - that is, I know from experience that older buildings (masonry in particular) are relatively resilient when it comes to water infiltration, fire damage, and general neglect. The Ruan house is a prime example of how a building that many people would assume should be demolished can in fact be rehabilitated into a crowning jewel, a prominent entry market into a National Register historic district!