The Census Bureau releases annual population estimates by City. The most recent (2009) estimates were released last week.
I pulled statistics for the Des Moines metro area and created a couple graphs to show trends over time. Here are the top five things I noticed in these graphs:
1 - The City of Des Moines has clearly turned a corner
Like many central cities that have experienced declines in population, the City of Des Moines is is now gaining population in absolute numbers. This is good for the City and good for the region.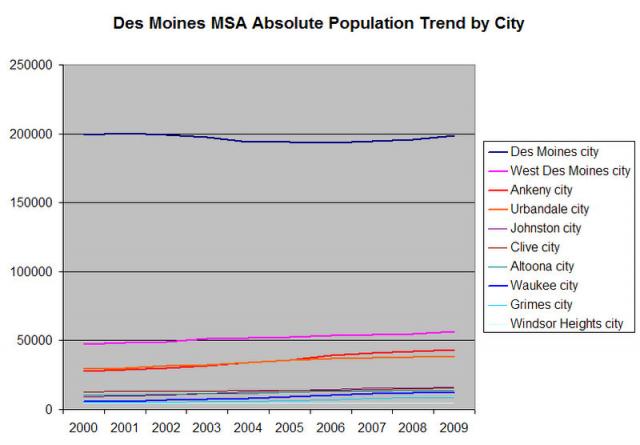 Des Moines MSA Population Trend by City
2 - The Des Moines metro area is gaining population
Des Moines has recently received a lot of positive national press about its quality of life, business opportunity, and livability. Individual municipalities are still competing for residents and businesses, but at least its not a zero-sum game.
3 - Des Moines is the largest municipality by a factor of 4
More people choose to live in the City than in the suburbs. The City of Des Moines provides a huge variety of living options from downtown lofts to suburban-styled subdivisions to historic neighborhoods.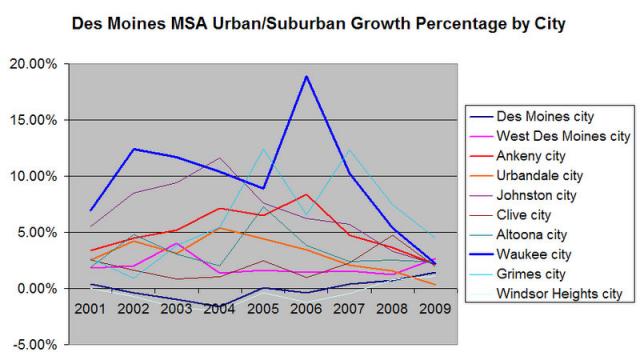 Des Moines MSA Population Growth % by City
4 - The RATE of suburban growth has slowed
While they are still adding population, formerly "exploding" exurbs like Waukee are experiencing a drastic reduction in the rate of growth.
5 - The RATE of urban growth has increased
In 2009, the rates of growth for the major municipalities in the Des Moines metro area converged at about 2%. However, examining the rate of growth trending tells a different story - Des Moines, Windsor Heights, and West Des Moines are on their way up. Almost every other municipality is experiencing a slowdown in the rate of growth.
What Does it Mean
In the coming years, look for an increasing number of people to seek out the connectivity, energy, and community of urban living. The City should capitalize on those things that make urban living unique rather than try to compete with the suburbs. Suburbs will try to incorporate elements of urban living in their development plans.