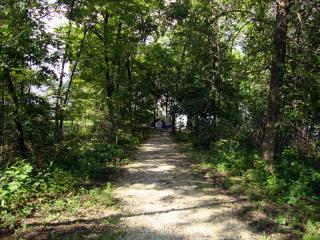 Campsite at Long Branch State ParkI spent a couple days camping at Long Branch State Park in Missouri this past weekend. Camping in a typical state park is about as "urban" as you can get and still be sleeping in a tent: running water, electricity, showers, and even bags of ice and firewood delivered by a friendly "host" in a golf cart! This time around, however, we opted for the slightly more secluded walk-in sites set back from a central parking lot by 50 yards or so. An easy 3 1/2 hour trip south from Des Moines, Long Branch is a gem of a State Park. As long as it doesn't storm.
But what I really want to talk about here is Bloomfield, Iowa, a town about midway between Des Moines and Macon, Missouri. Bloomfield is the Davis County seat.
The Davis County Courthouse is one of the most incredible pieces of public architecture I have seen. This Second Empire masterpiece is capable of holding its own against just about any other public building in Iowa that I can think of, save the Capitol. Here are some of the elements I believe are important about public architecture:
Visual cues tell the user which building to approach. The courthouse is situated in the middle of a traditional town square. It is the tallest building in the town (perhaps in the county, excepting grain elevators). It is encircled by a ring of two-story brick commercial buildings that face the square. There is simply no question that this building is a place where important things happen.
Gracious pedestrian approach. A sidewalk circles the block, with walkways that directly and understandably approach the building at its main entrance (see below). Old growth trees provide cover for pedestrians and frame views of the building itself.
Understandable and well-marked entry to the building. A grand staircase clearly marks the entrance to this building. From any vantage point, the entry process is clear (assuming, of course that it hasn't been compromised by security procedures that force people to use an obscured entrance).
Clearly, this courthouse was built as a monument to the law. It must have been a massive public undertaking, though it cost only $45,000 and change at the time to construct. As public architecture, the traditional town square really cannot be improved upon. It truly serves as the heart of the community. It is a stately anachronism that has thrived in an era of budget cuts and anonymous public buildings.
According to the online history of the courthouse this building was conceived as just such a place. At his Fourth of July address on the public square in Bloomfield, July 4, 1876, Colonel S.A. Moore said, "A new and brighter era of peace and prosperity is dawning upon the nation, that ere long will throw the full tide of its glory upon a united people; and in view of this coming prosperity, Davis county will erect a public building that will do honor to the present and future generations."
Facing the courthouse is the historic "Iowa" movie theater. Its Vitrolite glass cladding was installed in 1948 and has acquired a historic significance of its own as an classical element of the Art Deco design era of the 30's (true to form, Iowa has always been a late adopter of fashion trends).

View Larger Map
My one criticism of this square is that the retail pedestrian experience leaves much to be desired. There are no street trees on the retail side of the street, where there are (or rather should be) more pedestrians. Only about half of the buildings have awnings. It appears that several of the storefronts are vacant or may soon be. As suburban-style big box stores move in, historic downtown stores are shuttered.
Just as urban districts must compete against suburban retail by capitalizing on those elements that make the urban experience unique, so must the small town square differentiate itself from the new Wal-Mart outside of town.
I would advocate for the parking lane along the courthouse side of the street to be removed in favor of a wider sidewalk with substantial street plantings on the commercial side of the street. This sidewalk area should include street trees, benches, historic themed pedestrian lighting. Restaurants should have outdoor seating.
This is not nostalgia for what once was, it is a recognition that free parking will not draw customers from the big box. A locally owned store on the town square may never compete against Wal-Mart on price or parking. They can compete on the overall shopping experience, location, and service as part of a shopping "destination".
That so much effort is being put into restoring and maintaining the courthouse is a good sign - people in Davis County care, and have always cared, about the town square. Similar effort must also be put into restoring and maintaining the pedestrian character of the surrounding businesses.