It's Quite the Gamble...
Proposed Casino LocationCasino owners Gary Kirke and Mike Richards recently put an option on an 85 acre piece of land north of 80/35 at 100th Street in Urbandale... and then quickly withdrew it. They proposed to develop on this 85 acre site a craptastical casino-dining-entertainment-bowling-hotel-conference-center extravaganza. This would have been a structure almost as big as the new Urbandale Hy-Vee. Perhaps they should have considered adding a grocery store to the plans.
The project would have required approval of the Urbandale City Council and Planning and Zoning Commission. My guess is that they faced stiff opposition from City staff and politicians and, well, everyone living in the subdivisions just north of the proposed site. Indeed, I lost a potential bathroom remodel client in part over concern about investing in a house so close to a proposed casino.
The site doesn't currently have direct Interstate access... Yet. Polk County Public Works website outlines a $21m plan to construct an interchange at 100th Street, scheduled to start in 2008. Clearly, that project is, um, behind schedule. Wouldn't it be great to control the land around it when the interchange does eventually get built. And it will.
In the meantime, my best guess is that a similar proposal will reappear, sans casino, some time soon.
With the disappearance of this proposal, you can feel free to invest in Prairie Meadows again. If Branstad's "education plan" is implemented, perhaps there will be enough suckers to support two Des Moines casinos. In the meantime, I suggest adding classes in probability and statistics to the high school curriculum...
Pecha What?
Q: So what do the intelligentsia do for fun on a Friday night?
A: They listen to each other talk at Pecha Kucha (pronounced "peCHA kuCHA" because it's Japanese).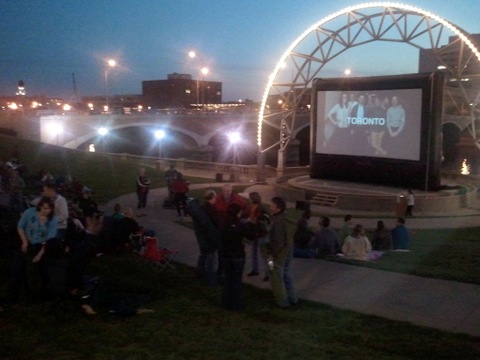 Pecha Kucha - Sept 2012
Pecha Kucha is at its core a lecture series. But there's a catch. Each presenter prepares a PowerPoint presentation of 20 slides, each of which is shown on the screen for 20 seconds. No more, no less. Intelligent and passionate people invite the audience into their world for 6 minutes and 40 seconds.
Truth be told, you have to be pretty engaging to make a PowerPoint talk worth listening to. Amazingly, the eight presenters did it! The topics in the September 28 event ranged from eastern Asia travel stories to coping with grief. The presenters demonstrated the best of Des Moines as they talked about the arts, the City, and their own personal stories.
And then there was the backdrop of the City itself. Pecha Kucha partners with various organizations to host their approximately bi-monthly events. This one took place in the Simon Estes Amphitheater on the bank of the Des Moines River. Looking out across downtown we saw the YMCA and Traveler's Insurance neon signs reflected. The bridges aglow in light up and down the river. 801 Grand poking above all the other buildings...
Weather Beacon Dark. Apocalypse.
Weather BeaconBut we didn't see the Weather Beacon. This downtown Des Moines icon was turned off for good on the morning of September 27. In its honor, a haiku:
Oh, darkened tower
White? Red? Green? Nobody knows --
Will snow fall tonight?
Think about the icons that can define a city... a unique or historic building, a bridge, a monument, an event. Perhaps the Weather Beacon was none of these, but it is/was an important component to many residents' experience of living in Des Moines. A unique structure that exists as part of a city for any length of time becomes incorporated into its collective history.
Removal of the structure (in this case just the lights on the structure) can generate an outpouring of emotion! Note that the weather beacon has gone dark before. During the energy crisis, the lights were shuttered, and it was not relit until the 80's. Perhaps this is an opportunity to upgrade the bulbs to more energy efficient LED lighting.
It may be worth considering that this structure is now more than 50 years old and may qualify for listing in the National Register of Historic Places! If it does, the "rehabilitation" may qualify for Federal Historic Rehabilitation Tax Credits - effectively eliminating the main KCCI argument that it "costs too much" to maintain...
Correction - Turns out that the current tower is only about 30 years old. Prior to that, the "weather beacon" consisted of strings of light attached to a prior transmitting tower that may have been rebuilt or substantially altered to meet current code. Unfortunately, while the "concept" of a weather beacon is old enough to be historically significant, the current structure is not. We may have to wait another 20 years for it to qualify for potential listing in the National Register of Historic Places. Does anyone have specific information about the age of the current tower? I read conflicting reports on a variety of sites...
You know it's important when Raygun creates a shirt. I'm just sayin'.