Greystone Homes Start Construction
New construction homes have started to pop up along MLK and scattered throughout the adjacent neighborhoods just north of Downtown. This is a great sign for the City - I am excited to see investment in non-Habitat infill construction (even thought it is subsidized as well) because it demonstrates an expanding market.
Hatch Development Group is building 26 "Des Moines Greystones" on scattered infill sites. Here's what they will look like:
Des Moines Greystones, Hatch Development Group
I'm not convinced that the design is appropriate for the locations. They are attempting to "import" the idea of the appearance of a Chicago greystone to a location that doesn't really support it. Here are some photos of infill Chicago "greystones" I took on a trip to Chicago several years ago:
Not all of these are great design, but the Chicago greystone home type is a part of the context and underlying neighborhood development pattern there... density, material compatibility, consistent massing - these all create an understanding of why the buildings take the form that they do.
The context is different in Des Moines. Best case for the Des Moines Greystones development, it would have been nice to see a contemporary reinterpretation of the styles that form the context in the surrounding neighborhoods. We will follow this development as construction continues.
Historic Preservation Commission, Ames Edition
Last night I had the honor of being asked to speak at the Ames Historic Preservation Commission meeting. Spurred in part by the Ames School Board's proposal to demolish Roosevelt Elementary, the Ames Smart Growth Alliance and the Ames Historic Preservation Commission are planning a preservation education series (full disclosure - I hope to be one of the speakers).
The Ames Historic Preservation Commission is set up similarly to the counterpart here in Des Moines. Exterior rehabilitation and construction projects in the local historic districts must first receive a "Certificate of Appropriateness" from the HPC. The HPC interprets the enabling ordinance and local district guidelines, with the assistance of City staff, in order to determine whether or not proposed projects comply.
On the evening I attended, there was but one project on the docket for approval: a new trellis over an existing back deck. The trellis is well-considered and ties in to the homes historic detailing. It sailed through with little discussion. Interestingly, one of the citizens who came to speak in favor of preserving Roosevelt Elementary was my high school art teacher... Small world.
Sometimes Less Is More
I arrived in Ames about a half hour early and took the opportunity to revisit Main Street. There have been substantial streetscape improvements since I left Ames in 1993... I couldn't help but compare them to the more recent Ingersoll work.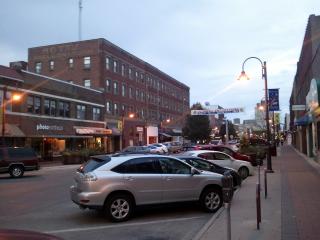 Ames Main Street clearly demonstrates why "main street" as a concept is so important to preserve: moderately dense (for midwest standards) mixed-use development that prioritizes pedestrians and integrates into the surrounding residential areas is a sustainable model for supporting small, local business. What I particularly like about the Ames approach is its simplicity.
Note in particular the following elements that work together to create an extremely pedestrian-friendly space:
Angled parking creates a comfortable buffer for pedestrians.
Wide sidewalks allow for a comfortable path of travel for pedestrians.
Bike racks encourage alternate transportation.
Canopies and overhangs provide protection from the weather.
A view of the continuous storefront retail is not obstructed from the street.
Cars do not cross the pedestrian path of travel. Cars and pedestrians don't play nice. It is best to keep curb cuts across public sidewalks to a mininum in pedestrian-oriented development.
Let's take a quick look at the differences between Ingersoll and Ames Main Street.
Ingersoll has been the focus of a huge streetscape improvement project. Things I really like are the bike lanes, contemporary streetlights, and the street trees. However, these are balanced by a several "deal killers" in my book.
First and foremost, there are no mixed-use buildings. A viable and successful "main street" must have residents as an integral part of the mix. Residents provide a ready-made clientele for the businesses and activate the street at times when the businesses are not open.
Second, the planters are just overkill. Aside from taking a lot of time, energy, and money to maintain, they block drivers' view of the storefront retail. They also make the parking less accessible. A passenger with a mobility impairment would have difficulty navigating the thin sidewalk between the curb and the planters.
Third (a corollary of the previous), the sidewalks are too narrow. Most of the space between the businesses and the street is taken up with planter. But plants can't shop at stores or eat at restaurants... If you want a pedestrian-oriented retail district to thrive, this space should be primarily designed for people.
Finally, there is a curb cut every 40 feet. Each building has its own access to the parking lots in back. Of course, parking in the rear of the buildings in a pedestrian-oriented retail district is a necessity. Access to that parking should seek to minimize crossing over the sidewalks. It's just asking for an accident...
That last one is a big one, too. Why? Because pedestrians expect to have right of way on a sidewalk and people cars don't like to give up the right of way anywhere. Cars crossing designated pedestrian paths of travel is a surefire way to promote someone getting hit.
Conversely, along the Ames Main Street, parking behind the buildings is accessed by car only from perpendicular side streets. After parking, pedestrians can filter through to the sidewalk in front of the buildings through regular gangways and pocket parks (illustrated below). They can also enter directly into many of the stores through back doors.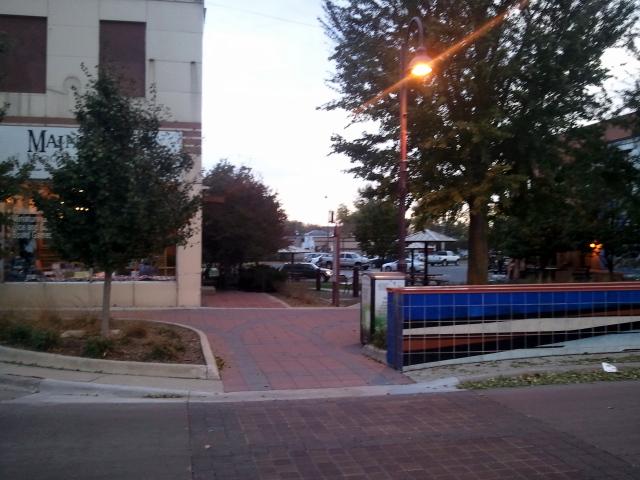 Is there a long term plan for Ingersoll as a pedestrian-oriented retail district? If so, there needs to be a comprehensive plan to reduce curb cuts.
Lustron
And finally, I ran across this picture in my phone.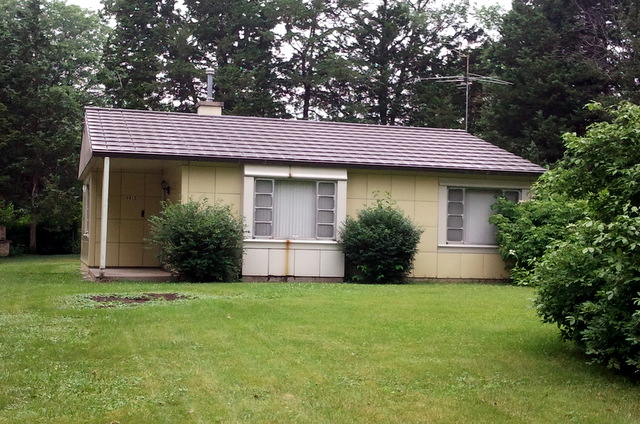 Lustron Home in Windsor Heights
I collect photos of Lustron homes that I pass by... I'm not sure why the Lustron story is so compelling to me. Certainly, it's not because I'm particularly in love with the houses themselves. I think the idea of an all-steel house is not particularly good: it's a terrible insulator, it rusts, it conducts electricity, and prefab homes themselves are the opposite of the craft that draws me to historic preservation. Yet, I am fascinated with the story of Carl Strandlund, a man who set out to fundamentally change the way we produce housing for our citizens.
I'm glad he didn't succeed but I also want to preserve the story of his idea, kept alive in the unaltered architecture of the little steel anachronisms that dot our urban and suburban landscapes... That they are unique today is a bit ironic because Strandlund's intent was that they become ubiquitous. I'm glad that people continue to buy and maintain them so we can continue to appreciate them.