[Note: I'm reposting this blog originally written in 2008 because it's one of my favorites and because it is particularly relevant in relation to the recent bike lane and commuting blog posts]
Several factors go in to determining how "urban" a neighborhood is: compactness, connectedness, population diversity, diversity of use, and relationship between the private and public space.
The following graph plots these characteristics for a variety of different neighborhoods. The more area enclosed by the graph, the more "urban" a neighborhood is. Continue below the graph for some examples of how it relates to actual Des Moines neighborhoods.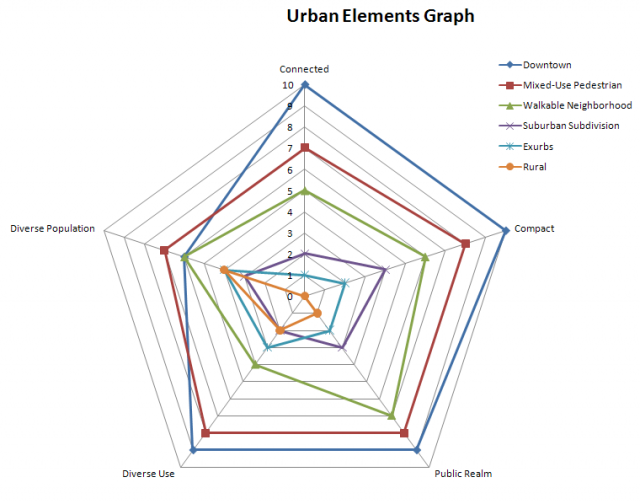 Urban Elements Graph
This is not a scientific analysis, but a philosophical one. There is not a lot of rigor in the definitions, and the various criteria ratings are much more a qualitative comparison between development patterns than actual quantitative analysis.
Downtown
Downtown serves as the regional business anchor. There has always been a variety of uses downtown including retail, office, industrial, recreational, religious, government, medical, and residential. More recently, there has been an effort to increase the residential component. Population diversity downtown includes the poor/homeless and the upper-middle income to wealthy. There is not a whole lot of opportunity for the lower-middle income resident to own or rent in the downtown area.
Historically, streetcar lines radiated from downtown and provided public transportation to get workers from their homes in the surrounding neighborhoods to their jobs at the center of the city. Now, buses are the primary form of public transportation, but added to that are a gridded road system (cars), a trail system (bicycles), and a shuttle system within downtown.
The downtown area is compact for the most part, with plenty of public space in the form of streets and parks. I would go so far as to say there may be too much open space... certainly too many surface parking lots. As land values increase in the core, surface parking lots will disappear.
Mixed-Use Pedestrian
Most older cities constructed prior to the explosion of automobile ownership were built around a "walking" module, with commercial streets forming a grid and residential areas filling in the spaces between. Retail stores populated the main streets, often with residential apartments above. Such districts were to a large degree destroyed in favor of auto-oriented strip malls and drive-thrus in the post-1940's suburban expansion.
Some pockets of mixed-use pedestrian districts remain: Beaverdale business district, a block or so at Euclid and 6th, portions of Ingersoll, and University Ave at Drake. East Village is in the process of being remade as a mixed-use pedestrian district.
The population "watershed" for a mixed-use pedestrian district should include several blocks on either side because residents can easily walk to the businesses. Including this additional population allows the diversity of such a district to increase greatly. Not only can it include low-rent apartments above the shops, but also pricey single-family homes within walking distance. Such a district promotes frequent contact between people of different income levels.
Such districts are typically compact and connected through public transportation to other similar districts and to downtown.
Walkable Neighborhood
A walkable neighborhood contains a variety of housing options, but is not centered on a pedestrian commercial street. Though a gridded street pattern is present, it is less likely that residents are within a just few blocks of retail or frequent public transportation. An example of such a neighborhood might be Union Park.
Such a neighborhood can support a relatively diverse population, but the diversity of use begins to drop when retail and businesses are relegated to the edges. A mix of single-family homes and apartment buildings helps keep the density relatively high. Particularly in historic walkable neighborhoods, there is an excellent sense of the street and sidewalk as a "public realm" where spontaneous interaction can occur.
Suburban Subdivision
Diversity in use and population decrease significantly in a suburban subdivision - they are typically planned and constructed as uniform, stable environments where one purchases a sense of stability as well as a house. Homeowner associations and restrictive covenants in suburban subdivisions are sometimes implemented in an attempt to preserve this stability. Non-conforming uses are usually not present in subdivisions.
Connection and compactness decrease as well. Because a suburban subdivision typically consists of relatively uniform lots and primarily similar residential units, street patterns and lack of connection make it difficult to provide effective and meaningful public transportation.
Ironically, density in some suburban subdivisions can be relatively high. But buildings, even multi-unit apartments, are typically placed in such a manner as to create odd and unusable spaces in between. Much has been written, perhaps most pointedly by James Howard Kunstler, about the odd dichotomy between the winding suburban streets that attempt to evoke the "cartoon" of a peaceful acreage while actually making people feel less connected to the landscape (and to each other)
The public realm is difficult to define in a suburban subdivision. Often, those elements like streets and parks that are typically considered public are actually less than such. These "public" goods are in many cases actually owned and maintained by the developer or homeowners' association rather than the local government. While the difference may be negligible to a resident of the subdivision, it means that use can be restricted and rules can be enforced that might not otherwise be allowed. Indeed, there are gated suburban subdivisions surrounded by fences, where it is impossible for non-residents to enter without approval. This is the antithesis of public space, and serves to drastically reduce diversity.
Exurbs
Given the almost rural location, small developed pockets outside of suburban subdivisions are difficult to define. Some were constructed in a relatively rural setting before the suburbs. Others were constructed after and in-between subdivisions to take advantage of new infrastructure without the subdivision restrictions. Either way, they are probably somewhat more economically diverse and support more diverse uses (wholesale/retail, agricultural, service, and residential), though at very low densities.
Connection is very low, consisting primarily of rural routes, state highways, and small feeder roads. There is very little public space except for roads, and they make up a relatively small percentage of the overall space.
Rural
The rural development pattern is included here primarily as a comparison. Connection is extremely low, and there is literally no public space (excluding state parks from the calculation). Racial and economic diversity are relatively low, with relatively few wealthy people compared to highly urbanized areas.