Last week, I posted a proposal to convert Interstate 235 from 42nd Street to East 14th Street into a boulevard. One of the reasons a project like this could benefit the city is by reclaiming vast amounts of unproductive land as taxable property.
The amount of valuable urban land consumed by the highway in this proposed study area is approximately 241.44 acres. Of this, 241.44 acres, I estimated that after recreating a three-lane boulevard (each direction) with two lanes of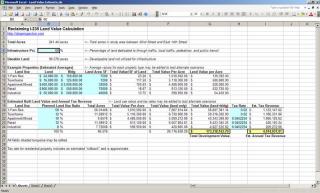 Reclaiming I235 Development Pro Forma: Click the image to download the spreadsheet. Send comments to me privately or leave them in the "comments" section below!dedicated public transportation, about 40% would remain for development. This land would be valued at approximately $26 million, based on typical values in the surrounding neighborhoods.
In this scenario, the total developed value of the land would be $173 million, yielding almost $5 million in annual tax revenue to the city.
How did I arrive at these numbers?
The estimates above are based on a quick spreadsheet I put together - that I am posting here for you to examine and comment on. Take a look! Are these numbers realistic? Inflated? Too conservative? Am I missing anything important in the "back of the napkin" calculation?
Please download this spreadsheet and comment - either privately or in the comment section below. Any of the cells shaded turquoise can be edited to test out various scenarios. I look forward to hearing from you.