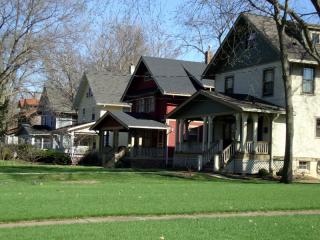 Drake Neighborhood StreetscapeI will be presenting a talk at the upcoming State of Iowa Historic Preservation Conference in Red Oak. My topic, also the subject of my talk at a Terrace Hill Tea, is "Why Old Buildings Matter".
I am not a strict preservationist. My basic approach to renovation design is to identify those elements I feel are "character defining" about a building and open everything else up to reinterpretation. My personal threshold is somewhat less than the State Historic Preservation Office. Of course, when I am working on a historic tax credit project, I conform to their requirements. The exterior is of particular importance in most historic buildings because the relationship between buildings is often a character defining element of a neighborhood. Consistency of character across a neighborhood or sub-neighborhood enhances the value of all the homes.
So why do old buildings matter? Here's a little preview:
Context - The shape and size of homes, and their pattern of arrangement into neighborhoods, both influence and are influenced by broader social, economic, and technical forces.
Narrative - To people who know what to look for, old buildings can weave just as complex a narrative as the greatest storyteller. These narratives give us a connection to the past.
Craft - Most of the materials and methods we use to construct our buildings today are designed to be replaced rather than repaired when damaged (and they tend to damage more easily).
Sustainability - At the individual level, extending the useful life of a structure through renovation allows us to improve energy efficiency while minimizing use of new-source construction materials. On a larger scale, renovation and preservation allow us to better utilize existing infrastructure and provide services more effectively to more people.
Come to Red Oak to see the whole presentation - hope to see you there!