I'm not a fan of the Des Moines skywalk system, but someone please forward this memo to the "At Least Des Moines Didn't Screw Up This Bad" department.
I am in Atlanta for a conference, and have spent a couple afternoons (yes, after classes let out) exploring downtown Atlanta on foot. There is a clear line of demarcation between the older portion where the streets were built to accommodate pedestrians comfortably, and the "urban renewal" portion where the historic buildings have been systematically replaced with brutal high rises and the streets can best be described as pedestrian hell.
The post 60's section has an extensive skywalk system, perhaps constructed as a response to the horrible street level pedestrian experience, perhaps a culprit.
The most egregious example I found is pictured below.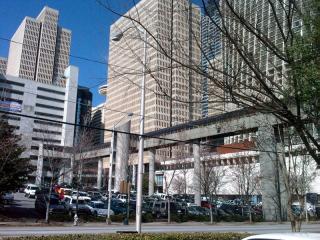 Peachtree Center Skywalk
What you see here is a two city block long, six story high, six foot wide intestine that collects nutritious pedestrians from nearby hotels and parking garages, digests them, and then poops them out into the Mall at Peachtree Center.
Here's the second most egregious example.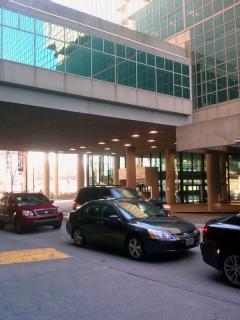 Skywalk Over the Main Entrance to the American Cancer Society
This is an example of fundamental disrespect to the street-level pedestrian. More on this building in a later post.
Here is a double-decker atrocity connecting a lincoln-log looking parking garage to (if my memory serves) a hotel. I should have made more careful notes about where I took these pictures.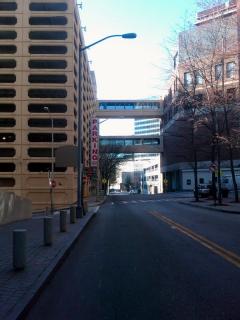 Double-Decker Skywalk (Atlanta)
And here is the final monstrosity.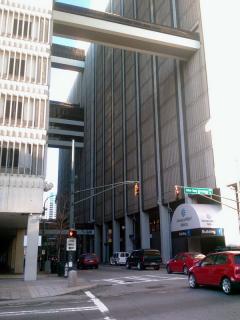 Skywalk Sextuplets (Atlanta)
No less than six levels of skywalks connect these two buildings! Someone needs to tell AmericasMart that it just isn't responsible urban parenting to bear any more skywalk children.
It appears as an outsider that the skywalks in downtown Atlanta are less a public system like Des Moines, and more of an effort by private businesses to keep their customers and employees from having to brave the hostile streets below.