It is unfortunate that discussion surrounding the development of the former Rice Field in the Beaverdale neighborhood focuses so much on the personalities and process instead of the actual proposal.
In my opinion, the best use for this particular site is clearly something more than open space.
In order to grow into the 21st century, what Des Moines needs is actually more projects of the type proposed for the Rice Field site. From the long-term urban planning perspective, the City should be promoting and facilitating densification and expansion of our neighborhood commercial streets as true walkable mixed-use districts.
The following streets are ones I see with such potential:
Ingersoll
Beaver
6th Avenue
East Grand
University-Drake
Euclid
Army Post(to some degree)
SE 9th (portions)
Those streets should form the foundation of a transit-friendly "net" that covers the City in accessible, pedestrian-oriented neighborhood commercial districts. Once those streets are densified, extreme effort should be brought to bear on completely remaking the anti-pedestrian sections of the city:
SE 14th
Fleur
Merle Hay
East University-Fairgrounds
Transit-friendly and pedestrian-oriented typologies facilitate more efficient public transportation and establish a variety of housing options distributed more equitably throughout the city.
In addition, Walkscore.com ranks this location as "Very Walkable". This site's Walkscore of 77 is based on proximity to retail, recreation, and services within walking distance.

77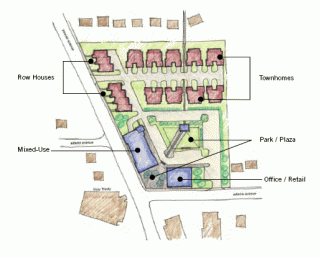 Rice Field Development Proposal: Image from the Rice Development Partners proposalThis is not to say the Boesen proposal for that particular site was the best one, nor does it imply that the process was fair and above-board. My gut reaction when I first saw it was "What a fabulous idea, but I think there should be more retail along Beaver!" Neither was I particularly enamored with the design of the secondary mixed-use building facing Adams. It is a wonder why one would waste prime retail corner space with a plaza, but overall it appeared to be a relatively sensitive development proposal.
I hear and acknowledge people's frustration with the process by which the proposed project almost came about. That type of wheeling and dealing is extremely unfortunate and damaging to everyone. Perhaps there is not a middle ground between those who want it to remain a play field and those who see it as a developable site (I guess I fall pretty squarely into the latter).