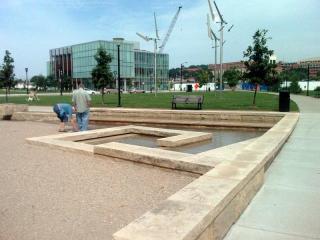 Fountain at Downtown LibraryThe fountain outside the downtown branch of the Des Moines Public Library is an excellent example of a public amenity. Note the walls at multiple levels (perfect for sitting on or walking along) and the zero grade entry for accessibility. It is clearly designed to encourage passers-by to slip off their shoes and linger.
While was leaving the library, I happened to witness just such an event. The young girl in this family was giggling shyly in anticipation as she asked if she could wade. The adults quickly agreed and everyone joined in!
Imagine a sign instructing people to keep out!