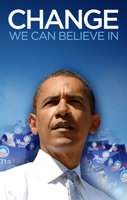 Of the six major candidates for president, only Barack Obama has outlined a specific and coherent Urban Policy platform. While each of the other candidates and parties have individual policy proposals to address specific urban issues, it is plain to me that sustainable revitalization will take a coordinated approach.
From Obama's official campaign web site:
Today, government programs aimed at strengthening metropolitan areas are spread across the federal government with insufficient coordination or strategy. Worse, many federal programs inadvertently undermine cities and regions by encouraging inefficient and costly patterns of development and local competition.
For the most part, it appears that Obama's urban policy pulls together elements from his other policy statements. Some of them are more applicable than others and several policy suggestions in his Urban Policy proposal appear to actually promote suburban expansion(?).
But it's a start. The difference between Obama and the other candidates is that he is clearly thinking about urban policy as a comprehensive agenda. I am quite certain that this stems from his experience as an organizer in Chicago.
Policy Proposals
Two key proposals stand out as particularly important to the development of a comprehensive urban revitalization effort (from the Obama web site):
Obama will create a White House Office of Urban Policy to develop a strategy for metropolitan America and to ensure that all federal dollars targeted to urban areas are effectively spent on the highest-impact programs. The Director of Urban Policy will report directly to the president and coordinate all federal urban programs.
Obama will fully fund the Community Development Block Grant program. In the long run, regions are only as strong as their people and neighborhoods. The Community Development Block Grant (CDBG) program is an important program that provides housing and creating jobs primarily for low- and moderate-income people and places.
Cities are the primary economic and creative engines of our economy. The creation of a position to coordinate efforts relating specifically to urban revitalization indicates a sincere commitment to cities.
The Community Development Block Grant program funds a variety of locally prioritized infrastructure, housing, and community development initiatives. This past year, Des Moines' block grant allocation was reduced. Obama has committed to fully funding the program.
In addition, the following policy proposals are very appealing as part of a coordinated urban revitalization plan:
Establish 'Promise Neighborhoods' for areas of concentrated poverty - This sounds pretty similar to the marginally successful Enterprise Community program, but I'd like to see us keep trying to build coordinated local service delivery efforts.
Increase the Minimum Wage - Obama proposes to raise the minimum wage to $9.50 an hour by 2011 and index it to inflation. Raising the minimum wage is a critical component to urban revitalization.
Expand the Earned Income Tax Credit - This is a refundable tax credit for low-income families with children. It is a great mechanism for redistributing taxes to low-income workers.
Build more livable and sustainable communities - Obama proposes to re-evaluate the transportation funding process to ensure that smart growth considerations are taken into account. This is another key urban revitalization strategy. We are massively overbuilding transportation infrastructure at the fringes of development. A comprehensive transportation policy will prioritize rebuilding and maintenance of existing infrastructure in addition to incentivizing higher density new development.
Control Superfund sites and data - Obama proposes to restore the strength of the Superfund program by requiring polluters to pay for the cleanup of contaminated sites they created. Cities are littered with so-called "brownfields" that require major environmental remediation of contaminant hazards.
Expand early childhood education - Through a variety of new initiatives and expansion of existing proven programs, Obama proposes to support early childhood education. This has been clearly shown to increase positive outcomes for urban children.
Reduce crime recidivism by providing ex-offender supports - Too many people are behind bars. Our "corrections" system seems to have the unintended effect of hardening criminals instead of rehabilitating them. America is facing an incarceration and post-incarceration crisis in urban communities. Providing prison-to-work programs, education, and post-incarceration support will help open doors for convicted criminals to become productive members of society. We should be making this transition easier, not more difficult.
Other policy proposals include addressing gun violence, expanding after school programs, strengthening fatherhood, ending racial profiling, and increasing public transportation security.