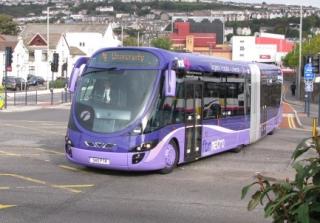 Bus Rapid Transit (via Wikimedia Commons)The Des Moines Area Regional Transit Authority (DART) is set to unveil a proposal to develop "bus-rapid transit" – rail-like service delivered with hybrid buses on Ingersoll and University Avenues between downtown and 42nd Street.
The proposal will be presented at three open houses on Thursday, January 26:
11:45 a.m. to 1:15 p.m. – Arthur Davis Room, Greater Des Moines Partnership, 700 Locust St.
2 p.m. to 3:30 p.m. – Pomerantz Stage, Olmsted Center, Drake University, 2507 University Ave.
5:30 p.m. to 7 p.m. – Greenwood Room, Plymouth United Church of Christ, 4126 Ingersoll Ave.
From the meeting announcement:
The service would be developed along established transit corridors that feature high-density residential neighborhoods and an abundance of destinations, including two medical centers, three institutions of higher learning, multiple shopping districts and employment centers, and many other services. DART would deploy hybrid buses that are branded specific to that service, build stations along the route with real-time arrival and departure information, offer 10-minute service at peak usage, and use technology to change stoplights and accelerate travel times.
Make no mistake, service like this is a fabulous idea to promote two things our City needs more of:
Wider transit ridership - with service that benefits a broad base of users
Compact development - Encouraging higher density development along established and consistent transit routes that connect to widely-used destinations
An additional suggestion for DART (no charge):
In conjunction with the establishment of Southwest Airlines service to the Des Moines Intergalactic Spaceport, DART should also explore ways of improving the anemic service to this transportation hub. Three times in the past year I have taken flights out and back from Des Moines at times when public transit does not serve the airport... very disappointing.
Continue reading...