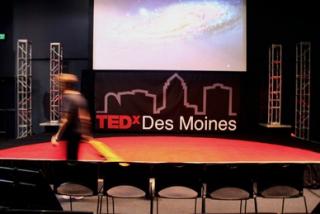 I ran into the always energetic Alexander Grugrich yesterday (at Mars Cafe, of course). Among the other items in our conversation, he reminded me that the next installment of TEDx Des Moines is coming up on October 13th!
The theme will be "The City 2.0" and booked speakers at the day-long event include:
Former Des Moines visionary and architect Jeffrey Morgan,
Developer and contractor Mike Nelson, and
Sustainability expert and local go-getter Suzet Nelson
...plus many more.
I won't be able to attend so y'all have to represent. This is an event not worth missing. It's not just about the speakers, though they form the foundation from which the event springs. TED is really about engagement and inspiration. If you go, use the speakers as a tool for engaging your fellow attendees. You will be with interesting and innovative people all day - don't waste the opportunity!
Continue reading...