The term "gentrification" carries with it a substantial cargo of economic, social, and racial baggage. In general, it is a pejorative and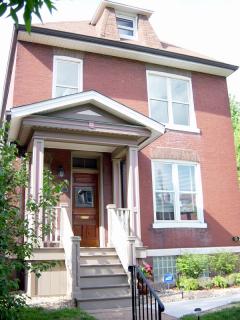 Completed renovation of a vacant homeloaded word used to describe what might otherwise be seen as positive changes in a challenged neighborhood: increased investment in homes and influx of middle-class and wealthy occupants.
The negative aspect of gentrification is, of course, "displacement"
The Displacement Dilemma
In order to be adequately parsed, displacement due to gentrification must be subdivided into several categories:
Displacement of homeowners due to rising property values - As properties are renovated, rising property values may impact long-term homeowners on fixed incomes who find themselves unable to keep up with property taxes.
Displacement of renters due to rising rents - Increased property values, more desirable properties, and increased competition may lead to rent increases that existing tenants cannot accommodate.
Displacement of minorities due to changing neighborhood demographics - Racial, religious, and social minorities may feel excluded or unwelcome in their own neighborhoods as the population demographics change.
Displacement of poor families due to changes in available goods and services - As neighborhood economics change, so change the types of stores and services available to neighborhood residents.
Displacement of criminals due to increased crime reporting and police response - With wealth comes political power, including the ability to do things like hire private security and influence resource allocation.
Clearly some of these categories are neutral, some good, and some negative. For example it may benefit one neighborhood to push criminal activity elsewhere, but unless the underlying issues are dealt with, it is a zero-sum game. Some other, less fortunate neighborhood will see an increase in crime.
Continue reading...