I had a fantastic and far ranging conversation with a fellow design professional this afternoon, sparked by the demolition of six historic homes on 31st Street just a couple days ago. One of the things we talked about was a disconnect between preservation professionals and developers who want to work in urban neighborhoods (specifically older established neighborhoods).
Sometimes despite a general desire to "do the right thing," they end up on the wrong side of the argument. Having worked on all phases of the development process (from land assembly, planning, and zoning to design, financing, and construction), I can identify with the need to be selective about sharing information publicly until the project is ready. Most developers working in older urban areas, however, tend to take this too far - holding their cards too close to their vest will breed distrust and antipathy from concerned neighbors and organizations. It sets up a needless climate of conflict.
Here is a brief overview of how to include preservation in the development planning process: Engage, Evaluate, Execute.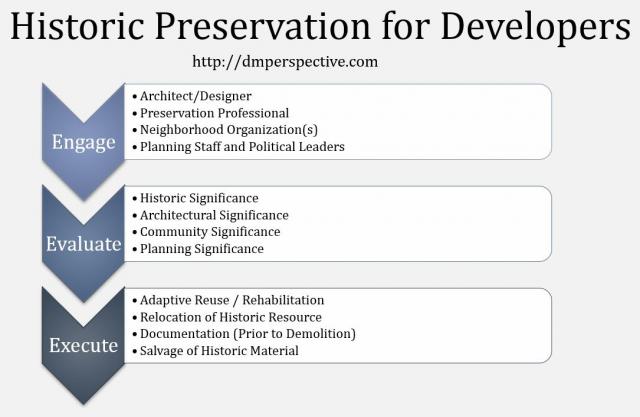 Historic Preservation Planning for Developers - Engage, Evaluate, Execute
Continue reading...