This morning I attended the first in a series of speaker events organized around the "Tomorrow Plan". Spearheaded by the Des Moines Area Metropolitan Planning Organization (DMAMPO), the Tomorrow Plan seeks to design a coordinated metropolitan strategy for managing the expected population growth over the next 25 years.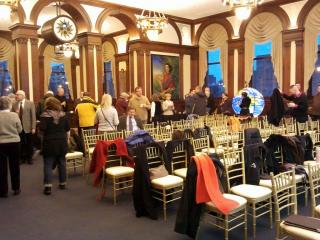 Tomorrow Plan Speaker Series - Bill FultonThe headline speaker was former Ventura mayor, Bill Fulton. Fulton now works for Smart Growth America assisting assist state, regional, and local government agencies around the nation with smart growth policies and tools.
All in all, the talk was an interesting if relatively superficial exploration of some of the fundamental issues that necessitate a reexamination of unchecked single-family suburban subdivision construction. He attempted to navigate the waters between advocating for more compact development, and the undeniable political, social and economic inertia driving (so to speak) suburban migration.
Here are some of his key points:
Demographic shifts - Baby Boomers and Millennials are the largest population segments, and they are trending away from traditional suburban living (they tend to seek walkable neighborhoods)
Sustainable and walkable neighborhoods - According to a National Association of Realtors survey 77% of of people prefer a pedestrian friendly neighborhood, 88% rank quality of the neighborhood higher than home size, and only 12% prefer a neighborhood with houses only
Sense of Place in either an "urban" or "village" form is important
Current development patterns strain fiscal resources - Low density development rarely pays for itself in terms of initial infrastructure investment or ongoing maintenance
Suburban development costs more money to support fewer people - Things like snow removal, elderly transit, and fire fighting are much less cost efficient in low density areas
Sustainability means making sure that a win today doesn't depend on a loss tomorrow.
Continue reading...