We Drive Too Much
In Des Moines, one gallon of gasoline now hovers around $3.50, almost $.50 less than a few months ago. Oil companies continue to rake in record profits based on the fear that supply is unstable and growing short (which it is, but that is another discussion).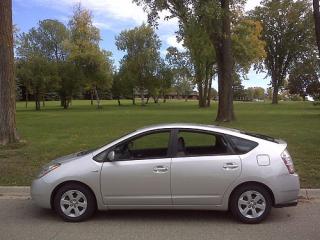 Toyota Prius: File source: James Benjamin Bleeker, Web Master of http://www.AutoOnInfo.net and http://CarsOnInfo.net [CC-BY-SA-3.0 or GFDL], via Wikimedia CommonsOne of the effects of relatively high gasoline prices is that people have perhaps started driving less. For many of us, when we start paying something closer to the true cost of driving each mile, driving less begins to look more appealing.
Of course, the problem with the high price of gas is that the extra money we spend at the gas pump goes straight to the pockets of the oil producers. very little of the fabulous sums of money generated by skyrocketing prices go towards actually dealing with the externalities of pollution, road maintenance, and traffic safety which are generated and/or exacerbated by driving.
Drivers tend to believe that the only prices associated with driving are cars, insurance, and gasoline. Why? because those are the costs that are most immediate.
Solutions we should work towards:
reduce the subsidies for new infrastructure and increase spending on maintenance of existing infrastructure.
Increase investment in mass transit.
Incentivize connected and compact development/redevelopment
Tighten emission standards
Tighten CAFE (fuel efficiency) standards
Increase the taxes on gasoline
Support engineering innovation for alternate fuel sources
Explore taxing gasoline per dollar rather than per gallon
It is my hope that we can reduce dependence on oil as a driver (so to speak) of our economic and social systems before it becomes an emergency - and it is pretty clear that it will.
Continue reading...