The image below shows a potential pedestrian-oriented site plan at 31st and Ingersoll that accommodates a building the size of a typical "The Fresh Market" (Fresh Market website) (21,000 square feet, indicated as a hatched square). Upon first glance at the zoning code, in the NPC, a building this size and use requires about 65 parking spaces and two off-street loading docks. Additional parking would be required if there is a second floor with office or residential.
I've subdivided the site into approximate zones that make sense from a pedestrian-oriented redevelopment strategy.
Primary street-facing facades along Ingersoll along the sidewalk
Parking in the rear, accessed from 31st
Loading accessed from 31st
Secondary vehicle access from Ingersoll
Residential redevelopment at location of demolished houses
Buffer between denser development/parking and adjacent residential on the north and west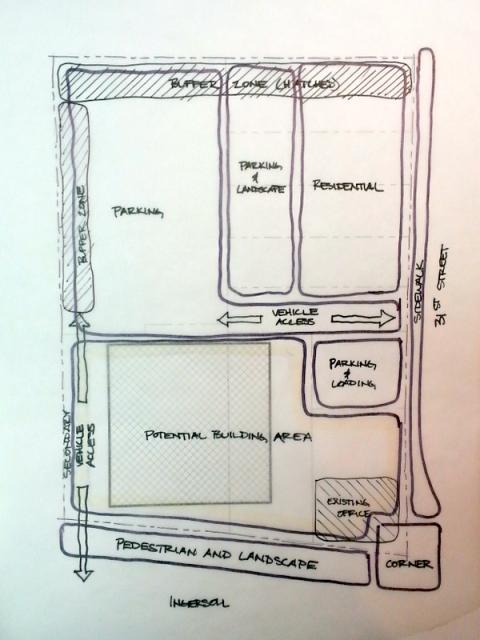 "Charette" Sketch of Pedestrian-Oriented Development: This sketch is a 4-minute "charette" showing one way of laying out the new development at 31st and Ingersoll in a pedestrian-oriented manner. It is not based on any actual discussion with the developer, nor a thorough review of the applicable zoning and building codes. However, it can give a general sense of priorities as we seek to enhance the established Neighborhood Pedestrian Commercial district.
Continue reading...